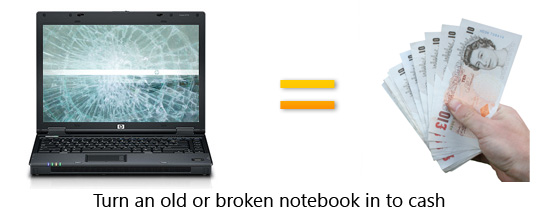 Don't just throw that old laptop in the bin!
company that buys broken laptops, used laptops, old laptops and even perfect working laptops. We can put your older technology to good use. We will erase all your personal information so you need have no fears that your personal information would fall into the wrong hands.
Give us a call, we'll make you an offer over the phone and provided the goods match your description we'll give you what we offered.
If you are thinking of buying a new laptop and you would like to trade in your old laptop to get a discount then give us a call. We'll make sure you get the best price for your old laptop.
It can be difficult to find a good home for your old laptop, sometimes it may not work perfectly and you don't want the hassle fo selling it with a fault. That's where we come in. We will assess the problem, give you a fair price and buy your old laptop.
Even if your laptop has been drowned in orange juice it may still be of value to us. Give us a call you have nothing to lose and everything to gain.
Looking for a company in Southampton or Hampshire that buys old or broken laptops, then give us a call.
We will buy your broken laptop, give us a call for a quote.
Southampton computer services will buy a broken laptop, some broken laptops are still of some value. Please call us instead of throwing it in the bin or leaving it in the cupboard.
If you want cash for your old laptop then give us a call.
Where can I sell my laptop in Southampton, Hampshire, Totton, Shirley, Millbrook? You can sell it here at Southampton Computer Services.
Laptop buyer Southampton.